DU Meter:
Visualize and track your Internet usage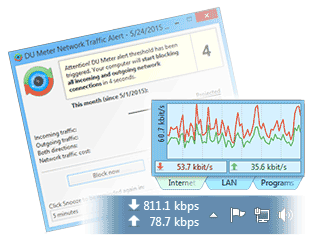 DU Meter is an Internet usage monitor for your computer. It shows real-time graphs and can create reports and alerts based on your downloads and uploads (more).
Latest blog posts about DU Meter
DU Meter News


February 5, 2022
For a limited time, our valued customers from United States can buy DU Meter license with $8 discount
Bandwidth monitor you can trust
DU Meter is the original network bandwidth meter. Don't settle for the imitations, there is a reason why top download sites rate DU Meter #1.

DU Meter for your business
DU Meter is used around the globe by home-based businesses, major corporations, and everything in between.
Intel, Nokia, Nortel, Qualcomm, Reuters, Texaco, ATT, Alcatel-Lucent, Raytheon, BC Hydro, US Army and many others already have DU Meter volume licenses.
Why you need DU Meter
" With its ability to monitor and track both immediate bandwidth usage and longer-term usage trends, DU Meter can save you a lot of time and trouble, especially in a day and age when some broadband ISPs are cracking down on some customers for what the ISPs consider excessive downloading."