Buy DU Meter License
You can use DU Meter to monitor your Internet connection; this bandwidth meter is fully functional during the first 30 days. If you want to keep it, you must purchase a license. Buying a license entitles you to future updates to version 8.x free of charge.
Dear customers from United States!
For a limited time, DU Meter license is offered with $8 discount!
Single-user and business licenses
A single DU Meter license does not permit simultaneous use on multiple computers. However, volume discounts are available to our business customers.
Family Pack
The Family Pack License is valid for personal use only and allows you to install and use one copy of DU Meter on up to 5 computers in the same household (not valid for business or institutional use).
Purchase in our web store is quick, convenient and secure. You can either order online or call us if you don't want to use your credit card online. You will receive your serial number immediately afterwards. All purchases made in our web store are backed by a 30-day money-back guarantee.
For business customers
If you would like to buy multiple copies of DU Meter for your business, just click on Buy One License above and select the required number of copies. Volume discounts will apply automatically. Or, if you are considering a larger order, please see the corporate sales web page for more information. Please note that the Family Pack license is not valid for business use.
Other ways to buy a DU Meter license
If for some reason you have trouble using our main web store, please contact us and we'll figure out a solution!
No-nonsense upgrade policy
If you already have DU Meter 8.x license, all 8.x version upgrades are free. If you bought a DU Meter 7.x license in 2020, 2021 or 2022, your serial number will be accepted by DU Meter 8. Otherwise you need to buy an upgrade, and you're entitled to a significant discount from our current DU Meter price.
For more information, please visit the DU Meter upgrade web page.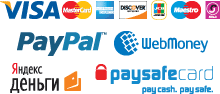 and other credit and debit cards accepted
Frequently Asked Questions
How long will it take?
Filling out the order form only takes a couple of minutes and the license is issued immediately afterwards, automatically.
What if I don't want to use my credit card online?
No problem. Just select "phone order" during checkout, have your credit card ready and call us, any time of day.
What if I don't have a credit card?
Our web store supports PayPal and other payment methods. If for some reason you cannot use our web store, please contact us for alternatives.
What about site licenses for business?
Our web store supports volume discounts. For larger orders please see corporate sales information.
Is it a one-time order or recurring fee?
One time order. You are entitled to free technical support and free minor version upgrades.