DU Meter for Android helps detect bandwidth stealing malware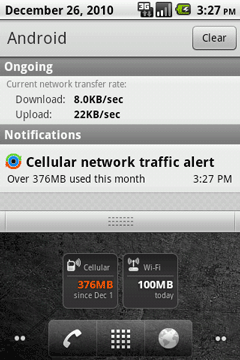 Mobile malware is still in its infancy, however considering how lucrative this "market" is, and how easy it is to sneak malicios software into Android Market, I'm afraid we are going to see much more of this in the coming months. Here is one example:
This malware is actually a repackaged legitimate wallpaper. It performs web searches in the background, presumably to inflate search engine rank of web sites related to these searches. This does not sound too bad, until you consider that your phone will be "visiting" thousands of web pages automatically in the background. It will not only drain your battery, but also consume your monthly bandwidth allowance, which can lead to excessive data charges.
How Google's "security" protects you agaist this? Basically your phone will tell you that this application needs access to the Internet during its installation, and you can refuse to install it if you disagree. Most people, myself included, will not see anything wrong about it.
Today we released an updated version of DU Meter for Android, which can alert you when your monthly bandwidth usage is higher than a preset limit. DU Meter cannot protect you against malware, but at least it can help you detect it early and avoid paying for the excessive network usage.