DU Meter for Android
DU Meter for Android is a network traffic monitor for your mobile phone. If your cellular data plan has a monthly limit, DU Meter can alert you when this limit is reached, so you can avoid costly charges.
Why you need it
Most cellular data plans have a monthly limit. And if you use more megabytes than what is included in your plan, you are going to get a nasty surprise when your next bill arrives. Data charges are really high if you are over your free monthly allowance. You may think that your monthly limit is really high and you will never surpass it, however there are several reasons this might not be true:
Many mobile applications connect to the Internet in the background, even if you don't realize it. That new cute gadget you just installed may cost you dearly when your cellular bill arrives. Unlike phone calls, your smartphone uses its Internet connection "on its own".
Many users use

tethering

to connect to the internet on their laptops, and don't realize that their computer's Internet usage counts toward cellular data plan.
If you pay cellular bills for your kids or employees, it is your responsibility to make them aware of the potential charges, and provide a way to monitor their monthly network traffic.
Features
Simple, reliable, intuitive to use.
Consumes very little system resources.
Can show current network transfer rates in the notification area.
Includes a home screen widget which displays daily or monthly data usage.
Screenshots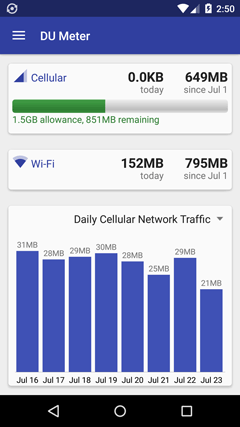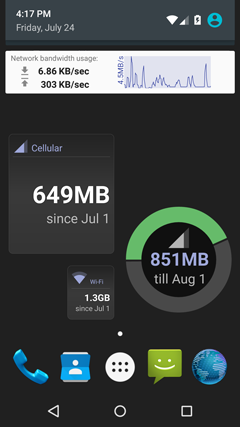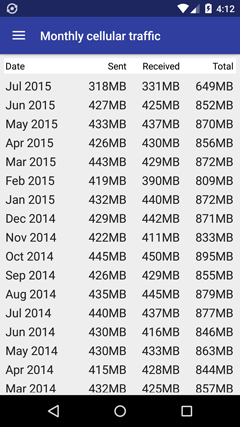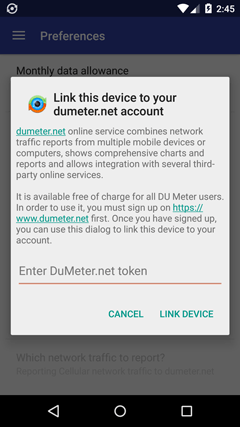 Quick links
About DU Meter for Android
Purchase from Android Market
Scan the QR code below using a barcode scanner on your Android device, or click on the link from your Android browser.
Price: $2.95 USD
Technical requirements
Android phone running Android version 4.0 or later, access to paid applications on Android Market.